A to Z Pirate Booty
eBay Seller Quick Tip:
eBay Sellers: You Need This Tool!
Buy Cordless Scissors
If you have ever needed to put a piece of cardboard in an envelope to keep a photo from bending.
Or if you need to cut down a cardboard box.
If you have any need to cut cardboard, then this tool is a MUST-HAVE for any eBay seller.
Cut the cardboard to just the size you need.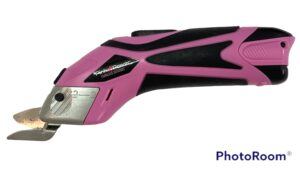 No more pain from regular scissors!
I recommend buying the Pink Power Cordless Scissors.
Click here to purchase on Amazon.
A to Z Pirate Booty eBay Seller Quick Tip: Buy Cordless Scissors
As an Amazon Associate, I earn from qualifying purchases.
My Takeaways
I can not live without these.
My only question is why I waited so long to get them.
They hold a long charge. I put the battery on the charger every two weeks!
I love the pink color!
Comes with a couple of different tips for cutting different materials.
 
Pink Power Electric Scissors Summary
All-inclusive set includes electric scissor unit, 2 blades, charger, battery, and 3-year warranty.
No hassle power switch and two specialty blades make cutting easy and efficient.
Cuts through various materials including fabric, leather, carpet, metal, paper, cardboard, plastic, and wrapping paper.
Great for craft projects, dressmaking, sewing, quilting, scrapbooking, and opening packages.
Up to 2 hours of continuous cutting time on a single charge.
Compact and lightweight with an ergonomic handle for easy use and storage.
Works for both left-handed and right-handed users.
Overall, the Pink Power Electric Scissors is a versatile and easy-to-use tool perfect for various crafting and household tasks.
eBay sellers you need this tool!
I have been selling on eBay for over 25 years
Check out my eBay store, click here!