Ahoy there!
It be Talk Like a Pirate Day, and that means it's time to celebrate all things pirate. This holiday was created to keep the piratical language and traditions alive. So put on your best pirate gear, grab a mug of rum, and let's celebrate!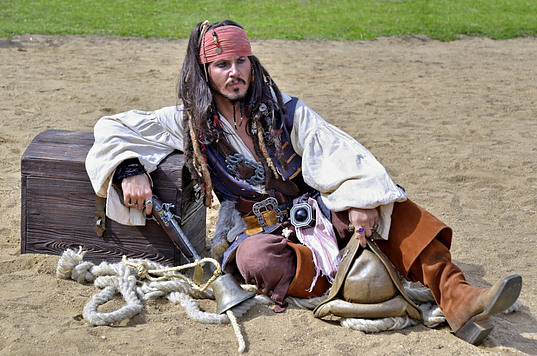 Talk Like a Pirate Day was born on a racquetball court in Albany, Oregon, on June 6, 1995. Two friends, John Baur and Mark Summers, were playing a game when they started shouting piratical slang at each other for fun. They realized that they needed to establish a holiday to celebrate this fine vernacular, and they chose September 19, Summers' ex-wife's birthday, as the date.
For the next seven years, Baur and Summers celebrated Talk Like a Pirate Day in relative obscurity. Then, in 2002, they sent an email to Dave Barry, a syndicated humor columnist. Barry loved the idea and promoted the holiday in his column. Talk Like a Pirate Day quickly became a sensation, and it's now celebrated by people all over the world.
So on this Talk Like a Pirate Day, let's raise a mug of grog and salute John Baur and Mark Summers for creating such a fun and whimsical holiday. Ahoy there, maties! Click here for their official website.
How to Celebrate Talk Like a Pirate Day
Talk Like a Pirate Day is a fun and silly holiday that's perfect for people of all ages. Here are a few ideas on how to celebrate: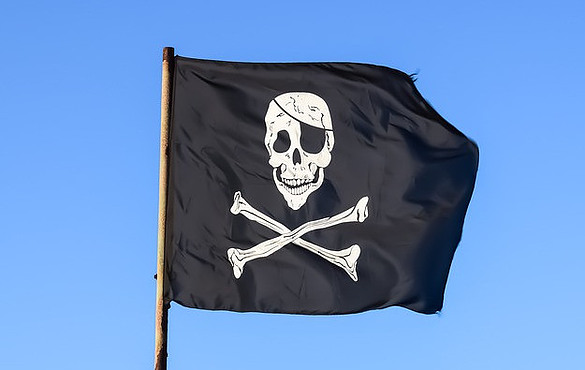 Talk like a pirate all day long! This is the most important part of the celebration, of course. Here are a few pirate phrases to get you started:

Ahoy, matey!
Arrrr!
Avast ye!
Blimey!
Grog blossom
Son of a biscuit eater
All hands on deck!
Bring a spring upon 'er

Throw a pirate-themed party. Invite your friends and family over for a night of pirate fun. You can decorate with pirate flags and skulls, play pirate music, and serve pirate food and drinks (like rum and grog).
Watch a pirate movie. There are many great pirate movies to choose from, such as Pirates of the Caribbean, Peter Pan, and Treasure Island.
Read a pirate book. There are also many great pirate books to choose from, such as Treasure Island, Moby-Dick, and Robinson Crusoe.
Visit a pirate museum. If you live near a pirate museum, be sure to check it out on Talk Like a Pirate Day. You can learn all about the history of pirates and see real pirate artifacts.
No matter how you choose to celebrate, Talk Like a Pirate Day is a great way to let you loose and have some fun. So put on your pirate hat and eye patch and get ready to arrrr!
A to Z Pirate Booty
Don't forget to stop by this eBay store and check out some cool collectibles! Learn more about Anne Z here.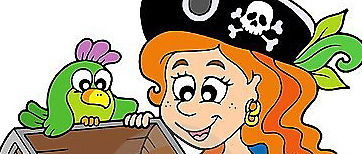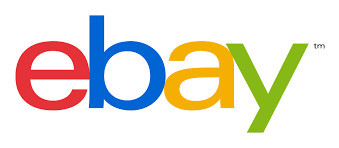 Days of the Year
Want to see what national days of the year are being celebrated? Click here to find out!
National days of the year are special days that are set aside to celebrate a particular topic, person, or event. There are over 1,500 national days celebrated in the United States each year, and there are even more celebrated around the world.
Some national days are well-known, such as New Year's Day, Christmas, and Independence Day. Others are more obscure, such as National Pi Day (March 14th) and National Talk Like a Pirate Day (September 19th).
National days can be a lot of fun to celebrate. They are a great way to learn about new things, to connect with others who share your interests, and to simply have a good time.
Here are a few ways to find out about national days of the year:
Check out the National Day Calendar website. This website has a comprehensive list of all the national days celebrated in the United States. You can search by date, month, or topic.
Follow national day organizations on social media. Many organizations have social media accounts where they post about upcoming national days and share ideas for how to celebrate.
Subscribe to national day newsletters. There are many newsletters that you can subscribe to that will send you information about upcoming national days.
Once you know about a national day that you want to celebrate, there are many things that you can do. Here are a few ideas:
Learn more about the topic of the day. You can read articles, watch videos, or even visit a museum to learn more about the topic of the day.
Share the day with others. Tell your friends and family about the day and encourage them to celebrate with you. You can also post about the day on social media.
Host a celebration. If you're feeling ambitious, you can host a celebration for the day. This could be anything from a small gathering at your home to a large public event.
No matter how you choose to celebrate, national days of the year are a great way to have fun and to learn something new.
Mickey as a Pirate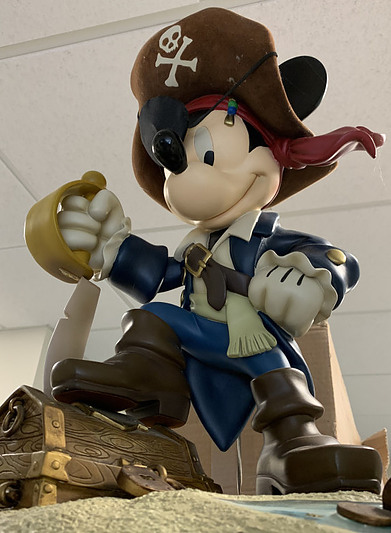 The statue figure of Mickey Mouse as a pirate is a popular collector's item that was created by Disney artist Costa Alavezos in 2009. It is a medium-sized statue, approximately 13 inches tall, made of sculpted resin and hand-painted in vibrant colors.
Mickey is depicted in a classic pirate pose, standing upright with his feet shoulder-width apart and his right hand resting on the hilt of his sword. He is wearing a red pirate jacket with white puffy sleeves, a black sash tied around his waist, and a black pirate hat with a skull and crossbones emblem on the front. Mickey also has a black eye patch over his left eye and a parrot perched on his right shoulder.
The statue is mounted on a black pedestal, and the base is inscribed with the words "Captain Mickey Mouse" in gold lettering.
The statue figure of Mickey Mouse as a pirate is a popular choice for Disney collectors and fans of all ages. It is a whimsical and fun piece that is sure to add a touch of Disney magic to any room.
In addition to the original statue created by Alavezos, there have been a few other Mickey Mouse pirate statues released over the years. In 2013, Disney released a special edition Pirates of the Caribbean-themed Mickey Mouse statue, which was inspired by the popular film series. This statue features Mickey dressed in a more traditional pirate costume, with a long black coat, a tricorn hat, and a sword and pistol at his side.
In 2018, Disney released a new Mickey Mouse pirate statue as part of its Disney Traditions collection. This statue depicts Mickey in a more dynamic pose, with him swinging from a rope with a parrot perched on his shoulder.
No matter which Mickey Mouse pirate statue you choose, you are sure to find a piece that you will cherish for years to come.
Value
The value of the Costa Alavezos' Mickey Mouse statue figure can vary depending on a number of factors, such as its condition, rarity, and demand. However, in general, the statue is worth between $500 and $1,000 in today's market.
In recent years, there has been an increased demand for Disney collectibles, which has driven up the prices of many items, including the Alavezos Mickey Mouse statue figure. In 2021, one of the statues sold for $700 at auction, while another sold for $689 in 2022.
If you are considering buying or selling a Costa Alavezos Mickey Mouse statue figure, it is important to research the current market value and to find a reputable dealer. You should also have the statue appraised by a qualified expert to determine its exact value.
Here are some tips for determining the value of a Costa Alavezos Mickey Mouse statue figure:
Condition: The condition of the statue is one of the most important factors in determining its value. A statue in excellent condition will be worth more than a statue that is damaged or has missing parts.
Rarity: The rarity of the statue also plays a role in its value. Some of the Alavezos Mickey Mouse statues were produced in limited quantities, making them more rare and valuable.
Demand: The demand for the statue is another important factor. If there is a high demand for the statue, it will be worth more.
If you are considering buying a Costa Alavezos' Mickey Mouse statue figure, I recommend that you do some research to find the best price and to ensure that you are buying from a reputable dealer. Unfortunately, mine is not for sale! 🙂