I do sell clothing on eBay despite what the title of this post says. However, I am getting much more selective. Okay, I'm getting way more picky about what I will post on eBay in the clothing department. It takes time to list clothing, mainly because adding measurements for each piece is so important to potential buyers. Return on investment is a key element, so why not make listing clothing a worthwhile investment of time? If the clothing doesn't fit into the categories I've named below, then it might be better to donate and move on.
Here are some considerations regarding clothing when selling on eBay or Poshmark or other marketplaces.
New with Tags
---
One area that makes describing clothing is what I call "New with Tags". If it has never been worn, then you don't have to rate the degree of worn under condition. Yes, there may still be a flaw or two, but many folks buy new clothing, especially with the tags still attached.
Popular Brands
---
Nike, Ralph Lauren Polo, Theory……down the list it goes. Popular brands can attract more buyers! As I make decisions on what clothing I will sell, I look at the brand right away! I'm not an expert but know what I see in the stores like Nordstrom and Macy's. I often ask my teenage son what kids are buying these days. And I look at other eBay listings to see what's selling.
If a brand has low re-sale value, I might put it out at a garage sale, or most likely I will donate to a local charity that takes clothing.
Clothing I Know About
---
I am a tennis professional by trade, so I do know a little bit about tennis clothing and fashions. When I come across athletic clothing, I do have an eye for what might sell and what won't. I'm not so good with fancy clothing and the latest trends, so I pass listing those items.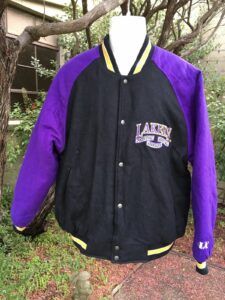 Here is a LA Lakers Jacket that I have listed currently on eBay. It came from a season ticket holder from years ago. It is in the category of sports memorabilia that may be highly sought after!
What do you know about? Cowboy shirts, Levi Jeans and boots? Then they might be worth listing.
Specialty Items
---
There are niche items like: ice-skating dresses, wedding dresses, winter coats and swim wear that might make some sales on eBay. It's always worth listing to see how it does. If no sales happen in your allotted time frame, then it might be good to donate and clear it out. Every December I love to donate the unsold coats and jackets from my eBay store to a local charity called One Warm Coat. This past year I gave them nine wonderfully warm items to help those without coats.
Costumes
---
I have found that stocking up on Halloween Costumes all year long can be profitable in October! If it's your thing, then maybe selling Ugly Christmas Sweaters in December (list them all year) can work for you! Have fun with some unusual costumes and don't forget to look for Disney Princess Dresses in younger girl's sizes! Having just come back from Disneyland, makes me realize just how many people will wear a sweatshirt or even Mickey Mouse jeans!
Measurements Count
---
I once listed a bunch of Men's Nike tennis shirts on eBay. They were mostly Larges, but I didn't take the time to measure across the shoulders, sleeve length and other dimensions important for the correct fit for buyers shopping online. I learned a valuable lesson and now measure all the clothing I list on eBay. My secret is I use a template and an app called Size.ly.
Here is a link to try it out! There is a free version and when you need more varied templates for more styles of clothing, think about upgrading which I did last month. It's awesome. You fill in the blank areas, create a jpg and upload right next to your clothing photographs in the listing. The buyer can see all the measurements very easily!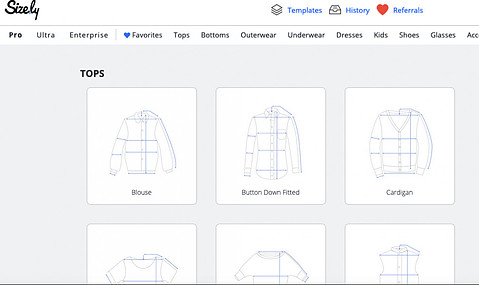 Higher Resale Value on Certain Consignment Items
---
There is a long time, high volume, high profit seller on eBay by the name of Linda's Stuff. She and her team sell designer luxury items on consignment. In fact, there is a two-step screening process when sending them clothing. First I send them an email with a list of items I have for them to evaluate. Then they reply with a highlighted list of what they will accept. After that, there is a consignment agreement that needs to be signed and returned. The best part is they send over a FREE shipping label from UPS for as many boxes as needed.
I then put everything in a plastic bag, fill the box, seal it up and take it to UPS for drop off. When it arrives, I get a new email with some pricing and possibly another round of evaluation that some pieces of clothing may have LOW RESALE VALUE. I can have it returned to me on my dime, or donated locally in PA where Linda's Stuff is physically located.
I also will get a seller's code to use on their sight so I can see the items once they have been listed. Once the sales are completed, a check comes in the mail with a great percentage on each sale. It is such an easy process that I highly recommend their services. If you want a referral to try them out, click this link and tell them I (Anne Zarraonandia) sent you!
Linda's Stuff will do the work, you receive a check! It's hard to beat that!
Recap
---
If you are interested in selling clothing on eBay, try to find items that are new with tags.
Be sure to include measurements in your listing.
Look for specialty niche items and well-known, popular brand names.
Perhaps the most efficient method is to hire a consignment seller and let them do the "heavy lifting".
If you have any questions or comments, please leave them below. I'd love to hear what you think about selling clothing online!